While they are related, they actually build upon each other. It originally started with the ADA, which didn't technically define website requirements, but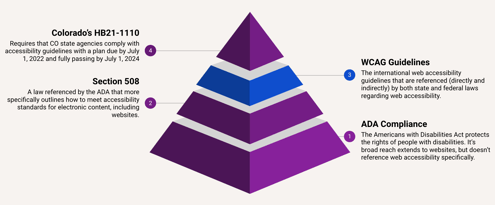 defines equal access to services for people with disabilities. On top of that came the Federal Section 508 requirements, which outlined basic website accessibility. WCAG 2.0 AA was officially adopted as the standard in January 2018, and those standards apply to government websites in most states.

At the top of the pyramid is HB21-1110. HB21-1110 requires all government websites to be fully accessible by July 1, 2024. HB21-1110 goes one step beyond other states' accessibility laws, by adding the ability for citizens of Colorado to bring an accessibility lawsuit to state court, rather than federal court.