We've received many requests to help our special districts communicate the need to host public meetings remotely for the foreseeable future. We hear you, and are developing content that should help you in various situations. Read on to learn more about how to help your community adjust to the new normal. We will continue to update our blog with additional communication ideas over the coming weeks.
Develop new meeting rules
Determine how remote public meetings will work.
Remote meetings are nothing new—however, public agencies face particular challenges when trying to implement them in a way that is cost-effective and allows members of the public to engage easily. The first step your district needs to take is determine what remote meeting platform will work best for your organization. (If possible, choose one that will work for both internal and public meetings so that staff doesn't need to learn multiple new tools.)
We held a webinar recently where we discussed some of the options available. Visit the webinar resources page to watch the recording and download some helpful materials.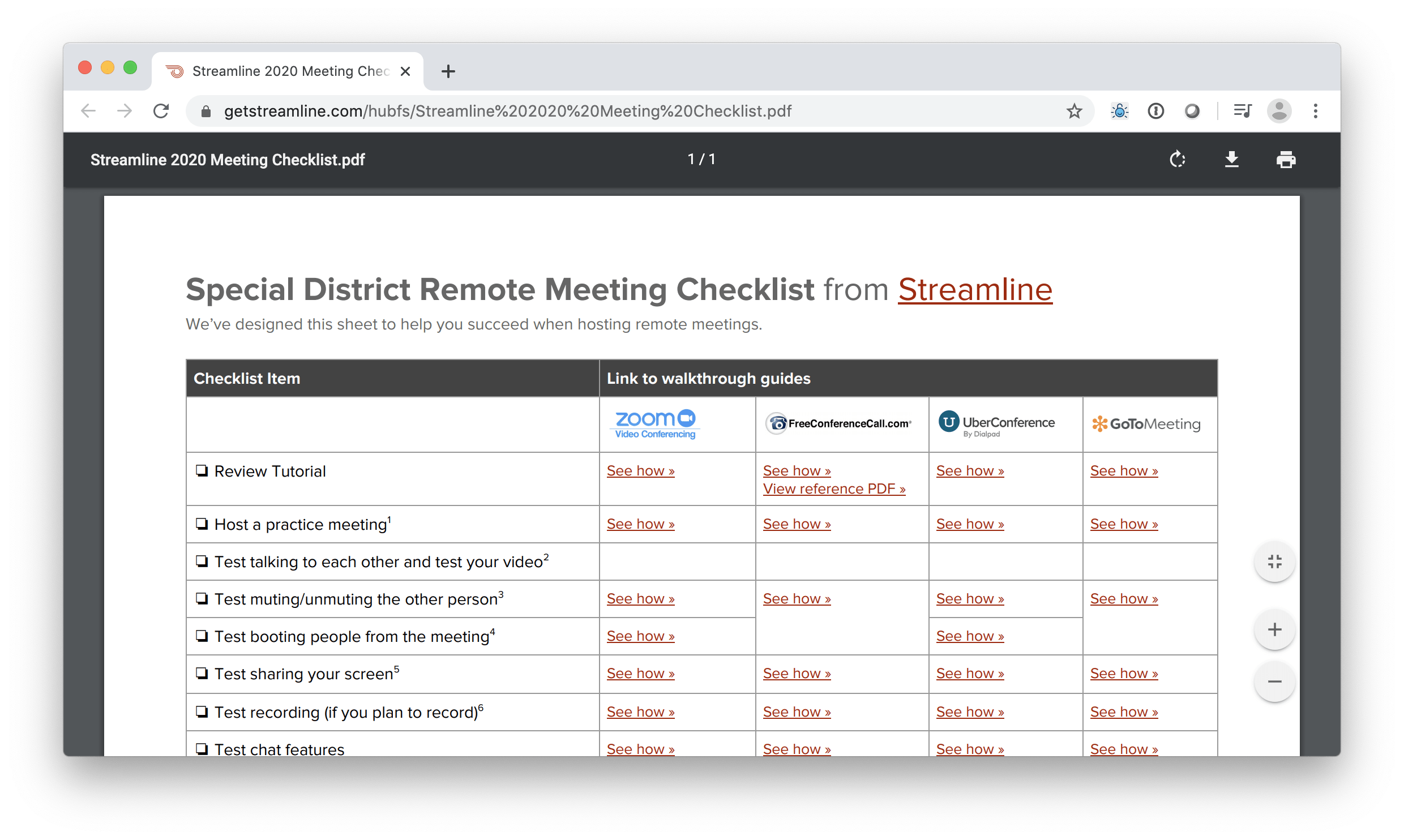 Practice and train your people.
Train staff and board members on how to use your chosen remote meeting software. Use this handy remote meeting checklist and run a practice meeting in advance of your first public meeting. Make sure you know how all the controls work - especially how to mute and unmute attendees, and best practices for holding closed sessions.
Encourage public attendees to be supportive and help you during your first few meetings. And don't worry, once you have a meeting or two under your belt, you'll be a pro! If you'd like help with your first practice meeting, I'd be happy to join and help you work out the kinks - just put some time on my calendar:
Over-communicate
Let people know how to engage with you.
Clearly explain how the public can continue to engage with your district, including how to receive essential services, if needed. Communicate office closures, limited hours, service expectations, and anything else they need to know about how you're operating during shelter in place orders.
When it comes to your public meetings, make sure to share details of how they can join remotely (see list below), and provide basic dial-in as well as computer-based options.
• Include details on how the public can engage remotely at the top of your agenda
• Include the URL of the online meeting, as well as dial in numbers/instructions
• Continue to email the agenda to anyone who has asked
• Post notices to social media, if you use it
• Post all of this information on your website first and foremost! Most meeting guidelines prominently, not just on the individual agendas
• Use features like the Emergency Notification tool for important updates
It's a good idea to share with the public the "rules of engagement," so to speak, as they too might not be used to online meetings. If I were attending a public board meeting for the first time, I would want to know ahead of time what to expect! (Will my video be on automatically? How do I mute if my dog barks? How do I let the district know I want to speak, if I am muted? Attendees will have many of the same questions you do!)

In all of your messaging, share your commitment to serving the community and what methods you will be using to keep them informed over time.
If you want to discuss this with someone, schedule some time to chat with Maria - she's an expert on this stuff. (Streamline customers - just submit a ticket from your site whenever you need us, Chris is super fast at responding).
Don't assume no one will come.
Even if your district hasn't had much engagement from the public in the past, don't assume that no one will join your remote meeting. In this time of uncertainty and sheltering in place, there may be more interest than normal. This is a great time for your district to show the community your leadership and caring, so get the word out!


And if you're used to reciting the Pledge of Allegiance during your meetings, no need to stop! We have a few ideas on new ways to honor this old tradition.

We're here for you
If you're trying to figure this out, we are here to help! If you have questions about state guidelines on hosting remote meetings, need buddies to help you run a test meeting, or are looking for advice on how to best leverage intranet, website, social media or email tools to communicate, just let us know. We use most of these tools on a regular basis and can either help, or find someone who can. :)
Take care and please stay safe!
Have questions or feedback to share?
I'd love to hear from you.