We believe California special districts deserve COVID-19 relief funds.
So we're partnering with CSDA and a growing coalition of communities and local leaders to urge the State of California to extend Coronavirus relief funding to special districts.
Districts all over the state are struggling with revenue shortfalls, workplace changes, and a host of other challenges all while continuing to provide the essential services communities need to survive.

Despite these problems, California special districts have received no direct access to COVID-19 relief funding programs, unlike other government entities: the state itself, schools, cities and counties.
That isn't right, and we think it's time for some change. This is where you come in.
We'd love for you to join the coalition, but also, for you to recruit your local stakeholders - community leaders, city and county officials, and/or any concerned citizens, to sign on to this coalition as well.
Not yet joined? Ready to activate your constituents?
California has both the authority and the resources to assist the state's special districts, but if we want them to act, they need to hear from all of us.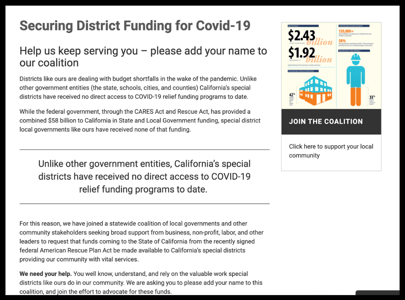 How can you help? Sign on to the coalition, then add this coalition recruitment template to your Streamline website and use Engage to easily share it with key stakeholders in your community. Encourage them to read through the information on the page and use the link to sign up.
Don't have a Streamline website? Email us at info@getstreamline.com and we'll send you the copy to add to your site!