What did it mean to be a special district in 2022? Over the last year, we talked with thousands of district managers, board members, attorneys, associations, management companies, mayors, state senators, US senators, and legislators. Here are the top 6 most impactful things that stood out to us in 2022.
1. An emerging federal definition of special districts
The push to define "special district" in US Code carried by the National Special District Coalition.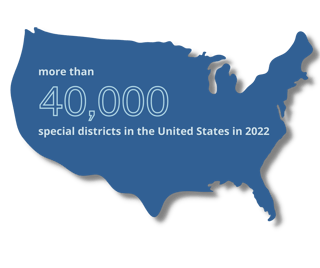 The average American does not know what a special district is, why they exist, or the essential services they provide. Districts are the most common form of government, and play a vital role in the daily lives of millions. Despite this, "special district is not defined in U.S. Code," (NSDC, 2022).




"A top priority for the Coalition is to define 'special district' in federal law to ensure districts have clear access to applicable federal programs," (NSDC, 2022).



Special districts have always been completely operated by their state, and as a result, they have been excluded from any federal funding and action, but NSDC is changing that. So the push for defining "special district" can open the door for federal funding, but also, regulation.


Check out all the details here >
---
2. The explosion of metro districts
Metropolitan districts in Colorado, Texas, and Florida are changing the very fabric of what a special district is.
There has been an explosion of metropolitan districts in states that allow HOAs to organize inside of government, like Colorado, Texas, and Florida. And because of the rapid growth, they're attracting a lot of attention and regulation. But other districts might be collateral damage.




At first, they're in service to the developers, then they change to be in service to the public that they serve. But that's a very different thing than a typical district. They're not created by the people, they're created by developers. So is that changing the very brand and fabric of special districts?



HOAs are not as popular as volunteer fire districts, for example. So, are these metro districts affecting the brand? Then again, government requirements often have the most transparency, so it's not necessarily easy to be at the same standard as a local government body - could it be a good thing?





Special districts are a brand and they should be sensitive to the changing dynamics, people might become allergic to the idea of a special district if they think of it as a special tax.
---
3. More pressure for online accessibility
From state laws to the dreaded OCR (Office of Civil Rights) letter, and a general accessibility movement from big tech, there is more pressure than ever fo
r districts to be accessible.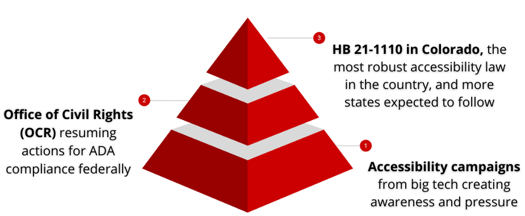 Website accessibility is top of mind once again. Just like buildings must have wheelchair ramps, websites must have accommodations for users with disabilities.


We have seen an emerging trend from big tech companies, like Apple and Amazon, pushing campaigns to increase awareness of accessibility features, which will make accessibility a hot topic for citizens, and increase demand for accessible websites. These campaigns mean website accessibility will be more serious and mainstream.


On a national level, online accessibility is once again a key focus for the Office of Civil Rights, which will resume taking action for those out of compliance with federal ADA standards.


Colorado passed a bill, HB21-1110, requiring districts to be compliant with WCAG 2.0 AA by 2024, but also allows citizens to bring legal action through the state instead of federally, which goes above and beyond any other state's accessibility laws. And we expect other states to follow suit.
Resources for district website accessibility >
---
4. Bad press triggers more transparency
A renewed focus on district transparency and good governance, even in unlikely places like Texas and Kentucky.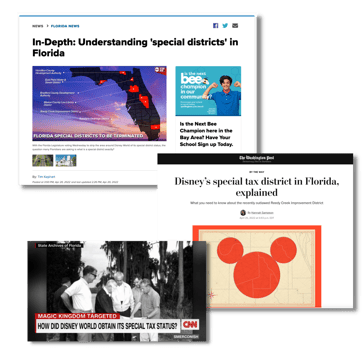 Recent events have put districts in national news and under scrutiny, sparking a greater movement for transparency in local government.


Most notably, the discussions around the Reedy Creek Improvement Act in Florida, the act that allows the Reedy Creek Improvement District district to govern Walt Disney World,


And the Louisville, Kentucky public records request that brought to light hidden emails and turned into a lawsuit over local food trucks.


With districts in national news, there is increased curiosity about what is going on in local government- building pressure for districts to be transparent, and raising fears of bad press.
Public transparency is foundational to local government activity.
Check out our tips for improving district transparency >
---
5. Districts going digital
Interest in websites as the district's "digital doorstep" to help with brand building and professionalism.
In the past, districts have often wanted to stay under the radar to avoid scrutiny. And there are reasons for establishing a website that are compliance-oriented, but now, there's interest in doing it just because districts want to tell their story, build their district brand, and look more professional.



Districts really want to put their best foot forward, so this concept of telling your story, and securing your greatness in the eyes of the public is emerging as a newfound interest, and the website is really the hub of it all.





We are seeing districts use their websites as their "digital doorstep," with a 24-hour staff member that is always available to provide information, collect payments, or take a message. A professional-looking and informative website provides a better experience for the community, improving the overall reputation of districts.
Check out what districts are doing with their websites in our inspiration gallery >
---
6. Remote meetings confusion and laws
Navigating the world of remote work, remote meetings, and lots of questions about what can be remote vs what needs to be in person.
Covid fundamentally changed how we work and interact. Many have gotten used to the flexibility of remote meetings, and in rural areas, remote meetings have saved staff and board members hours of commuting to a district office for a meeting. But how do remote meetings work for districts that have specific requirements for open public meetings, and what is required for compliance? The answer is not always clear, and districts are still adapting to the impacts of remote meetings.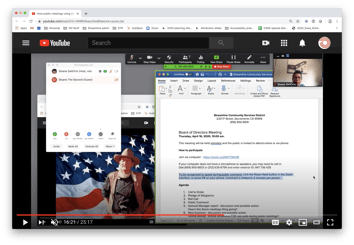 California (Brown Act) and Oregon (HB 2560) have new, additional guidelines and requirements for remote meetings to ensure districts: 1) have the flexibility for remote meetings, 2) are staying compliant with open meetings laws, and 3) make remote meeting information available to the public.





Many states temporarily added exceptions to their open meetings laws to allow for remote meetings during the Covid crisis, but California and Oregon are the first to permanently pen remote meeting requirements into law.
More information about remote public meetings is available here >
---
Streamline works with over 900 special districts across 20 states to provide a website platform designed to meet the specific and ever-changing needs of districts. It's our job to keep our finger on the pulse and up to date on the latest laws and trends impacting districts. Learn more about Streamline >